1
« Last post by digital on Today at 07:00 am »
to the forum.
2
« Last post by HACKLE on Today at 06:40 am »
from way down under.
3
« Last post by Demasiado on Today at 05:50 am »
Purchased her from a member here and the first thing I did was put 2500 miles on her riding home. one minor blip but other than that, completely happy.
Greetings from So cal
4
« Last post by w8d4it on Yesterday at 10:01 pm »
For Sale 2017 Bonneville T120. Excellent condition. Iím the original owner and the bike has been meticulously maintained. 16000 miles. New Drive Chain 1000 miles ago. New Front and Rear Brakes 200 miles ago. Front and Rear tires replaced 5000 miles ago. Oil Changed 1000 miles ago. Oil changed at 500 miles and then at every 5000 mile interval. Runs perfectly. Selling only because Iím moving to Europe and canít take it with me. Bike is located in Spring Texas (near Houston). $7500
Please use the Forum Private Messaging service if required.
Trophy Moderator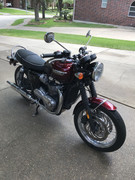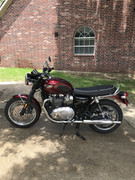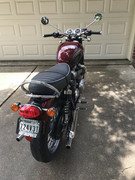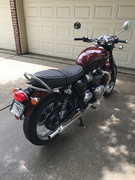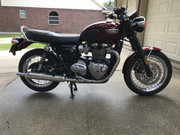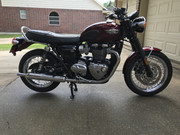 5
« Last post by digital on Yesterday at 08:40 pm »
6
« Last post by Coconut on Yesterday at 12:06 pm »
Thanks Didier,
One more video to upload today when itís finished being processed, showing our arrival at Vejer
Cheers
7
« Last post by Verdun95 on Yesterday at 11:32 am »
Thank you Alan for sharing these great videos, I guess the almost non existent traffic is a welcome change from the crowded roads in the UK. Enjoy your time in Spain and ride safe!
8
« Last post by Coconut on Yesterday at 07:42 am »
Cheers Francisco,
It is certain that I will be enjoying my time in Spain,
and I will drink an extra Beer for you on Thursday - my Birthday !
9
« Last post by STJIM on May 27, 2022, 11.36 pm »
Apparently there is a big variation in performance between the various LED headlamp bulbs out there. And the performance for the same bulb may be significantly different depending on if it's installed in a projector or reflector style housing. Of course the Trophy has a reflector style housing.
I found this comprehensive test by Alla Lighting of 5 different vendors LED bulbs. Of course the Alla bulb came out on top. Maybe there are other vendor's bulb that are just as good as the Alla that weren't tested. But the Alla bulb's performance look very good in this test, regardless.
https://www.youtube.com/watch?v=hoKSuK142qo
The reflector housing tests start at about the 12 & 34 minutes marks if you don't want to watch the entire video.
I bought a set of the Alla's for my Trophy. I haven't had a chance to test them at night yet, however.
10
« Last post by digital on May 27, 2022, 10.58 pm »
Alan, thanks for sharing those videos.
I hope you enjoy your mini vacations in my country. Too bad you hadn't been closer and we could have had those beers together.